Many Loves
"Ben Weeks has Many Loves" was a 2-year project. I researched creative leaders around the world, created an icon for each of them to represent their work, found their contact information, hand-customized 1200 posters for each recipient and mailed them out.
It was great to hear back from GQ, Hillstone New York Times Magazine, Rodrigo Corral and Apple. The project won lots of blog coverage and awards from D&AD and Communication Arts (No. 392 May/June 2013 pg.71) Over 4 years, my compounding annual rate of return on the project turned out to be 32.09% which was a 3X return on my investment.
Credits: Made in collaboration with Underline Studio where Claire Dawson & Fidel Peña art directed, Emily Tu designed and created the custom typeface. Cover Photo: Underconsideration.com Interior Photos: MadeByTung. Data Processing Assistant: Kate Noyes. Printed on Neenah Classic Crest at Andora Graphics.
Toronto Star
Ask Why - Toronto Star PSA
Typography: Ben Weeks
Director: Hubert Davis
Creative Director: Christina Yu
Editor: Panic & Bob
PEN Canada: Bad Words
Illustrations by Ben Weeks
Design by Soapbox
Creative Directors: Jim Ryce, Gary Beelik
Printed by: Somerset Graphics Co. Ltd.
Won Gold from the Advertising and Design Club of Canada
as well as Best in Show at NUARS and some other things.
Editorial Illustrations
Selected artwork for magazines and newspapers.
Forest Young x Frontier x RGD
AD: Tristan Marantos
CD: Paddy Harrington
University of Waterloo Magazine, Spring 2017
Living longer, living better.
University of Waterloo Magazine, Spring 2017
Cities of the future.
Sci-Fi Poster Illustrations for University of Waterloo to accompany their writing about the school's futuristic research, courses and alumni startups. (T2, 1984, Homeland, Elysium)
Marketing Magazine
Cover illustration for The Business of Creativity issue Summer 2016. Art Directed by Glenn Taylor.
New York Times Magazine
Double Page Spread Illustration for an article on Depression's Upside. Designed by Robert Vargas.
New York Times
An article on Performance Enhancement for the Week In Review section. Art Directed by Joon Mo Kang.
Angel Investors
Stanford School of Business Magazine
Art Direction by: Pentagram
The Walrus
Art Directed by: Chris Lee who taught me how to triangulate colour placement.
Esquire Black Book
Esquire Black Book
Esquire Black Book
Esquire Black Book
The Atlantic
"What Scares Google: How the search giant hopes to stay on top." For an article on paradigm shifts in the tech industry. Art Directed by: Jason Treat
Toronto Life
The Right School: Cover illustration elements. Art Directed by Jessica Rose.
Time Magazine
Illustration for an article on the interesting things students do when they take a year off school. Art Directed by: Corliss Elizabeth Williams
Adult children living at home, growing roots. Speaking of a type that is kind of ghostly, not necessarily present. I believe this was for Dose Magazine around 2006 or so. Good concept. Could be simplified but worth sharing from the archives.
The Walrus
Mortal Hazard feature illustration. Art Directed by Brian Morgan. Designed by: Paul Kim
Toronto Life
Shopping Guide Cover lettering. Many stores featured in this issue like to post it at their establishment "Featured in Toronto Life." Always amazing to see your work in use all over the city. Art Directed by Jessica Rose.
Design Edge Canada
Cover illustration for a feature article exploring designer's personal projects. Art Directed by Michael Hewis.
Wilfred Laurier University Campus Magazine
For a story about the school's 100 year anniversary. Designed by Erin Steed.
Bloomberg BusinessWeek
Full page illustration for an article exploring: "What is a Sophisticated investor?" Designed by: Patricia Hwang
Reader's Digest Canada
Lettering for "Best of Canada: 25 Reasons to Love this Country Now." Art Directed by Annelise Dekker.
Wharton Magazine
"The understanding of human nature becomes a set of tools to influence people for the better." —Katy Milkman. Designed by Jenny Hung for Pentagram.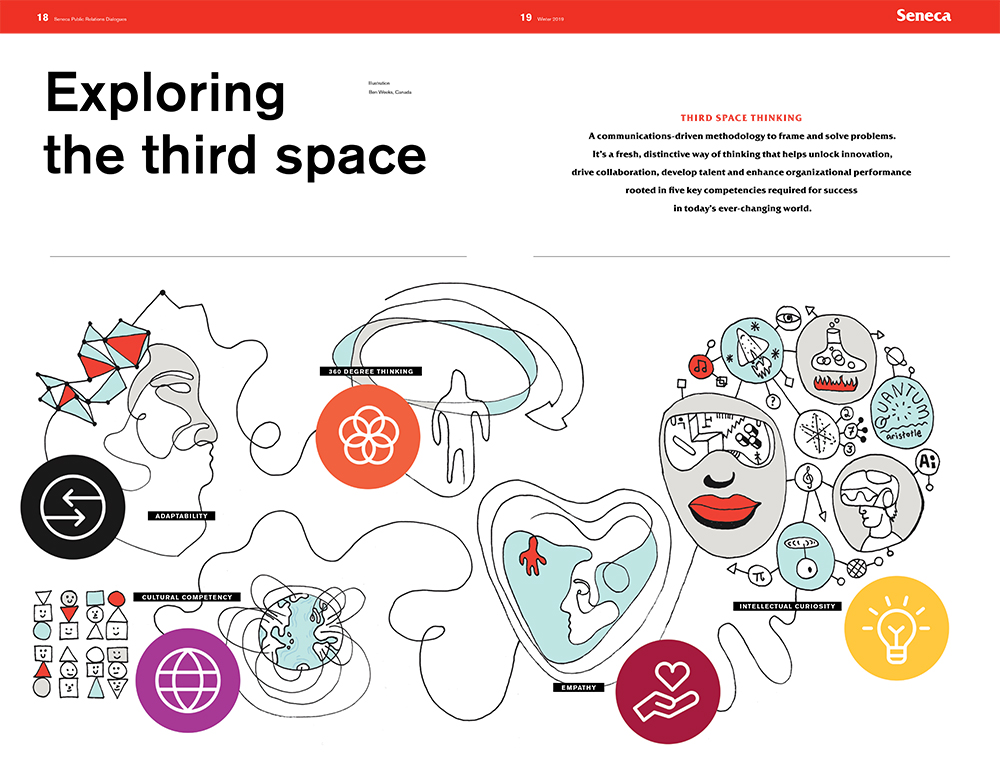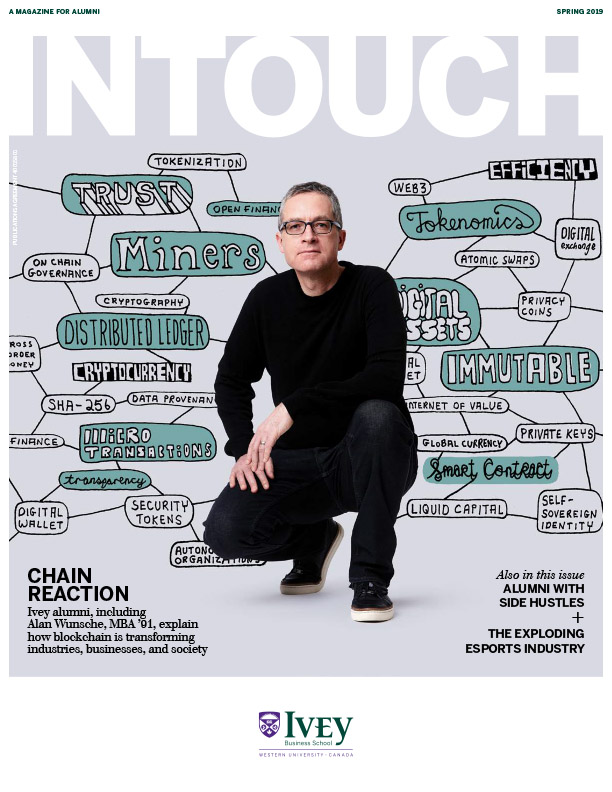 Western University's Ivey Business School, InTouch Magazine
"Chain Reaction: Ivey alumni including Alan Wunsche, MBA '91, explain how blockchain is transforming industries, business and society." The illustration showed a word cloud of concepts linked together.
Design Firm: Aegis Design
AD: Greg Salmela, Sabrina Xiang
Holiday Essentials Poster
Toscani ADC Poster
Photography: Paul Weeks
Design: Underline Studio
Printing: Newspaper Club
Words: Oliviero Toscani
Lettering & Illustration: Ben Weeks
Client: The Art Director's Club
Juniper Park Mural Video
Juniper Park Mural
This mural was created for the reception area of an advertising agency to help inspire their staff and visiting clients. Creative Director: Barry Quinn, Terry Drummond, Alan Madill. ACD: Christine Gliha. Producer: Ryan Teixeira. Assistant to Ben Weeks: Ian Turner. Featured in Creative Review and Communication Arts.
Selected for Creative Review's Illustration Annual
Paintings
These works reflect the unknown as a loosely ordered collection of floating debris. The relationships among these elements affirm the potentiality of hope. An extraction of meaning from chaos. Aphasia is neurological condition which blocks understanding of written and verbal language. These paintings suggest fragmentary elements beginning to form into a new visual language.
Beautiful broken elixir, 2016
Handmade paint on raw canvas
30 x 40 inches (76.2 x 101.6 cm)
return upward, 2016
Handmade paint on raw canvas
30 x 40 inches (76.2 x 101.6 cm)
Goop Portal 2016
mixed media on canvas
35.5 x 35.5 inches (90.17 x 90.17 cm)
If it is so, let it be so, 2016
Farrow & Ball (low to zero VOC) paint on canvas
55 x 55 inches (139.7 x 139.7 cm)
navy seal advice, 2016
mixed media on canvas
36 x 35 inches (91.44 x 91.44 cm)
"Whereof one cannot speak, thereof one must be silent," 2016
Gesso on canvas
41 x 44 inches (104.14 x 111.76 cm)
Purple Triangle: make wherever you are beautiful, 2016
Mixed media on canvas
54 x 54 inches (137.16 x 137.16 cm)
Teepee Bird Departure, 2016
Mixed media on canvas
43.375 x 43.375 inches (110.17 x 110.17 cm)
The Canadianist — Sold Out
Canadian Colloquialisms
Canadian Colloquialisms
COLLOQUIALISMS BY BEN WEEKS / 8" X 10" LETTERPRESS PRINT
HOLY MACKINAW! Ben Weeks gives 'er with a caboodle of Canadian colloquialisms — in his signature spontaneous, sprawling and exuberant style.
Each print is certified with a foil seal and letterpressed mini certificate — and packaged with a sturdy chipboard backing in a protective, crystal clear cello bag.
The Canadianist series prints are designed to perfectly fit Ikea RIBBA 30 x 40 cm frames (frame not included).
Print 5 of 5
Name: Colloquialisms
Illustrator: Ben Weeks
Colours: Red 032, Black, Silver Foil
Dimensions: 8 x 10 inches
[SOLD OUT]
$20 each or all five as a set for $80. [SOLD OUT]
With, Katy Dockrill, Tom Froese, Jeannie Phan, Andrew Kolb
Series with, Jeannie Phan, Katy Dockrill, Tom Froese
Pricing was: $20 each or all five as a set for $80 [SOLD OUT]
I'm pleased to have been invited to contribute to this beautifully printed series along with fellow Canadian illustrators. These are phrases which I associate with life in Canada. Encouragements, metaphors from from tough game of ice hockey and sense of wonder about our vast natural wilderness.
RGD Handbook Cover
It was an honour to do the cover artwork for "The Business of Graphic Design, The RGD Professional Handbook."
Designed by: The Office of Gilbert Li. Designers: Gilbert Li, Vanda Marasan, Marcello Hong. Interior illustration shown: Hudson Christie. Client: The Registered Graphic Designers of Ontario (RGD). Photography: Chris Thomaidis. Buy Book Here $50 + Shipping.
The Business of Graphic Design: The RGD Professional Handbook Cover
The content inspiration was notes and sketches a designer might make to themselves. Embedding self referential elements a designer could appreciate, laugh at or be encouraged by was also a consideration.
(Left: Back Cover. Middle: Spin., Right: Front Cover. Black printed as gloss varnish.)
Photos from RGD Launch Party
Cumbrae's Mural
BEFORE
AFTER
Enhancing the visual richness of the in-store experience. Ontario farm locations who supply meat to this butcher shop. Before and process sketch shown. Art Direction by Q30. Visual Identity by Blok Design. Architecture by Giannone Petricone Associates.
DesignThinker of the Year - Award Winner 2015
I love it when my clients win awards.
Photo by RGD: Glenda Rissman from Q30 presenting the Design Thinker of the Year Award to the founder of Cumbrae's at the RGD Design Thinker's Conference.
#NowOrNever
#NowOrNever - TO2015 Pan Am Games
More on the campaign Here.
Ben art directed the athletes in this commercial on set as they created lettering for the campaign tagline (#NowOrNever) to be used in the print campaign. At times only 10 minutes with an athlete would be available, so we had to make the best of it. One of the 15-20 final selects was used in the spot directed by Mark Zibert.
Client: Canadian Olympic Committee
Agency: Cossette, Toronto (Canada)
Creative Director: Glen Hunt, Yusong Zhang, Dhaval Blatt
Copywriter / Art Director: Dave Laing, Heather Kinoshita
Director: Mark Zibert, Jordan Dashner
Production Company: Sons and Daughters, Descendants TV
Soren Meeuwisse - Mountain biking
The intent of the campaign is clearer here. The COC hopes to raise funds to help train Canada's future olympic competitors. It's a long, tough road.
Yeates School of Graduate Studies

Algonquin College
Artwork for viewbook. Photography by Derek Shapton. Design by Andrea Gibson for Ove.
Staples PSA
The final drawings were done on a chalkboard and shot in-camera frame by frame. It took a team of 3 a day on set to draw everything. The planning, boarding, animation and approvals took a few weeks prior to the shoot. The directors played a kids movie on a laptop, filming kids reactions to cut together for the final edit.
The other thing I remember about this shoot was that when I was en route home from a production meeting I lost a brown cashmere sweater my grandmother had given me. On the plus side, we had pizza liberetto catering which included delicious tiramisu served in a mason jar. I went to this school for kindergarten 20 years earlier but didn't remember until later.
Staples PSA with English Subtitles
Storyboards & Animation Direction: Ben Weeks. Animation: Lillian Chan. Assistant: Ian Turner. Client: Staples. Director: Jon and Torey. Art Director: Matt Howe. Agency: McCann Canada. Producer: Grace Lee.
PEN Canada: Crimes
Designed by Jim Ryce at Soapbox. Portrait Photographs: Gary Mulcahey. Book Photographs: Chris Thomaidis. Lettering and illustrations: Ben Weeks. Client: PEN Canada. A continuous line drawing spans this 80 page annual report book.
my stationery system
Graphic Design is a powerful tool which uses color, material and form to set an emotional tone and convey quality. These are things I take seriously and therefore invest in. I wanted to create a sense of delight through my visual identity. Featured on Brand New's Friday Likes. Designed by TUNG
Early Work
Gemini
I was a second year illustration student when this work was published into American Illustration, beating hundreds—even thousands of submissions from professionals. The book recognizes the strongest images of the year. One of the judges was the guy who did the cartoons on SNL. So it was a great honour.
The twins are in the womb, dreaming of something to come in another world.
Soviet Space Race
This work was also done for fun on my own when I was an art student. I always had wanted to be an astronaut. Being an artist was a pragmatic compromise. Anyway the intensity, innovation and desire for discovery I love. We often in the west overlook the contributions and achievements Russia made. They have an aesthetic that's less familiar than the images we're more familiar with. So that was a fun collection of iconography to explore.
Life Drawing
This was when I stopped drawing in the classical style and found the confidence to play and discover my own voice. I did a series of works I can post if you're interested. I love the decisions in this drawing and the others. Some of the best I've ever done. Though commercially, people don't often ask for this look. It would be amazing to draw a celebrity portrait from life sometime.
Rooted, Established, Loved
Good things to be. Love the graphic shapes and fragile lines. These were printed as banners for a church I grew up in where my dad had been one of the pastors as a kid.
Ink on the Carpet
This was made in 2004 if I recall. It was a finalist in the Pizza Express Prospects show and exhibited in the Tea Building in London England—the same building where Tomato's offices were.
Survivor Guilt
The mint chocolate chip ice-cream floats by his fallen comrades in the frozen section of the super market.
Rocketman
I was also an art student sometime in 2002-03 when I did this one. It was based on some sketches I'd done for fun in my sketchbook that our awesome teacher (Paul Dallas) encouraged me to explore further. The brief had been to make something for inflight purchases for Virgin Airlines if I recall. For a sophisticated audience. I imagined a kind of very cool king who could fly with the power of his own beard.